Native American Owned & Operated!
Pow Wow Trading Post in Page, Arizona, which borders the Navajo reservation, has served the local Native Americans since first opening in 1977. It has also blessed us with a tremendous variety of jewelry, and art from the local vendors, and artistans. Our mission is to bring to you, our customer, authentic native American pieces. You have our guarantee.
Welcome to our site, hope you enjoy it, and if you are ever in our area, we would love for you to stop in and visit us!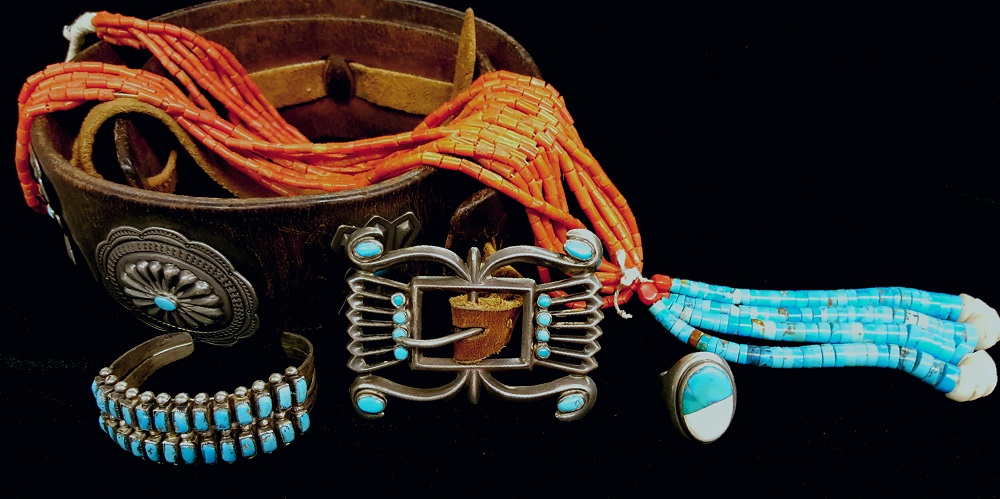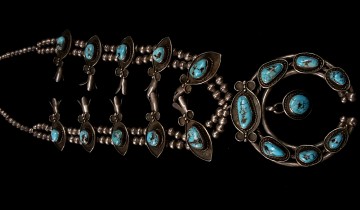 Hello, this Traditional Navajo Silver Turquoise tri-petal Squash-Blossom Necklace. Is an authentic inverted crescent pendant on a squash-blossom necklaces, called the 'Naja' by the Navajo,  is found in various design forms throughout the world cultures.  According to the Navajo, the symbol of the Naja is decorative, and serves no purpose either as a spiritual symbol or as a specific symbol.  Yet, the Naja is held in very high esteem by the Navajo as well as other peoples. The Navajo Pearls also called Bench beads are strung in a single strand. The necklace itself is Navajo, adopted by the Zuni. Yet the incorporation of turquoise on each blossoms is an advent of the Zuni, later adopted by the Navajo. Navajo word "Chil Biton" means flower-like bread, or more literally translated,"bead that spreads out". In the 1880's the tri-petal we know as a squash blossom bead appeared. At first, tri-petal silver beads were simply interspersed with plain beads in a "Naja" necklace. Then stones began to be added to the blossom beads partly. The price on this unique necklace is $10,000.00 USD.