Native American Owned & Operated!
Pow Wow Trading Post in Page, Arizona, which borders the Navajo reservation, has served the local Native Americans since first opening in 1977. It has also blessed us with a tremendous variety of jewelry, and art from the local vendors, and artistans. Our mission is to bring to you, our customer, authentic native American pieces. You have our guarantee.
Welcome to our site, hope you enjoy it, and if you are ever in our area, we would love for you to stop in and visit us!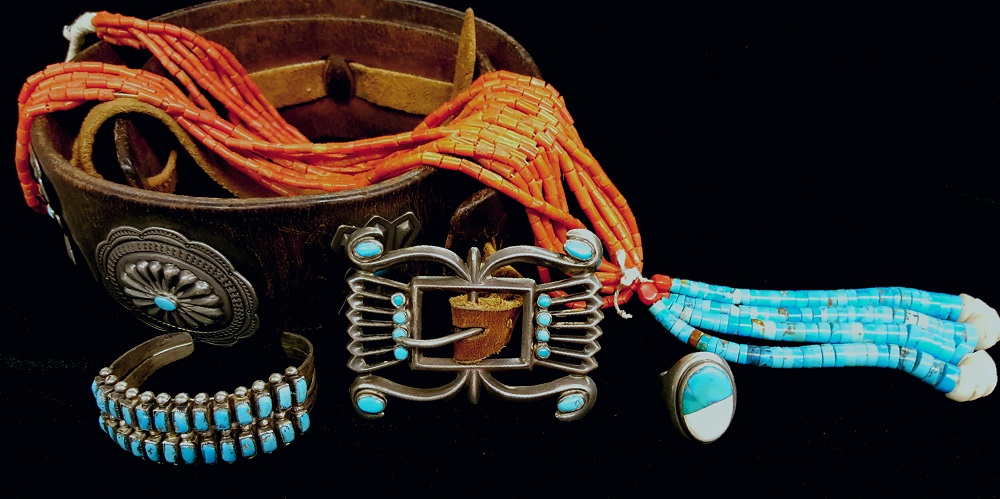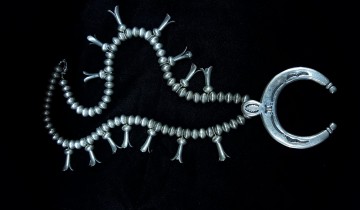 Hello, this Traditional Navajo Silver Stamped Squash-Blossom Necklace. A authentic inverted crescent pendant on squash-blossom necklaces, called the 'Naja' by the Navajo,  is found in various design forms throughout the world cultures.  According to the Navajo, the symbol of the Naja is decorative, and serves no purpose either as a spiritual symbol or as a specific symbol.  Yet, the Naja is held in very high esteem by the Navajo as well as other peoples. The Navajo Pearls also called Bench beads are strung in single strand.
The Navajo silversmith that makes beads has two specialized hand tools. One is a dapping block that has concave half domes of various sizes in it. The other is a set of correspondingly sized dapping punches, which have ball ends.
Each bead starts out as two flat discs of sterling silver of a specific size. Each disc is domed one at a time by placing the disc over an appropriately sized cavity and dapping it with the punch until the flat disc becomes domed. Each half-bead is filed so that it will fit evenly with the other half-bead. A hole is drilled in the top of each dome. The burr from the drilling is filed off. Narrow strips of silver solder are cut and placed between the halves and with ample flux the two pieces are soldered together. The edge is filed and the bead is polished. Price on this necklace is 8,000.00 USD